Balsa
Balsa has very strong aspects like security and ease of use due to which it has become very good Gnome email client. It also has some weak spots like there is no global search and there are also problems for text reflow.
Pros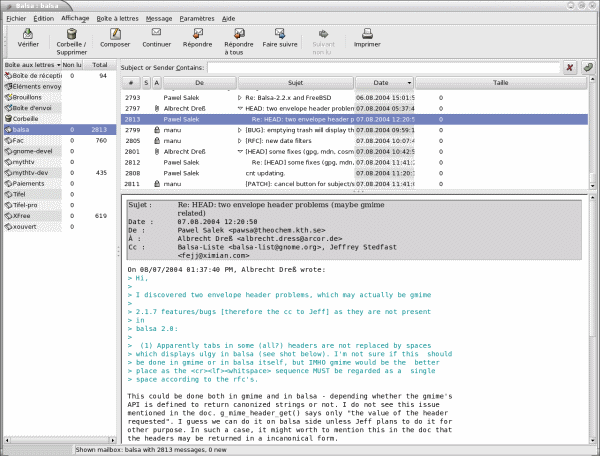 There is powerful plain text editor available in Balsa. Balsa integrates with Gnome very well and there is support for many standards. Greast features of security are also included in it. It is simple and easy to use as well.
Cons
There is no support for HTML in the editor of Balsa and there are some reflow problems as well. The message templates and labels are not available. The spam filter integration is also not included in it.
Description
It can manage multiple IMAP and POP accounts. Balsa can support mh, mbox and maildir mailbox formats locally. It can provide support for all kinds of message formats and attachments by integrating smoothly with Gnome. The mails are delivered through local sendmail or remote SMTP. There is flexible message filter offer available in Balsa which can sort mails automatically and it can also print and other actions can also be performed.
The messaging can be secure and authenticated as Balsa can provide support for OpenPGP email cryptography. Balsa requires Gnome 2 and it supports for BSD/Linux/Unix.
Review
Gnome carves messages in Balsa as it lives in woods. It is great mail client for Gnome which shows great versatility and competence. There is support available for all popular mail formats in Balsa. The mails can be sent through SMTP server or sendmail and mails can be fetched through IMAP and POP. The mails can be sorted through flexible filter which is based on regular expressions and other criteria. Balsa can be very good for composing well formatted and clean plain text message with its simple message editor. You might also find some irritating goofs in the form of reflowing quoted text but overall it has very good editor. Message templates or labels which are used to organize mails easily are not offered by Balsa.