Starfish Family Mail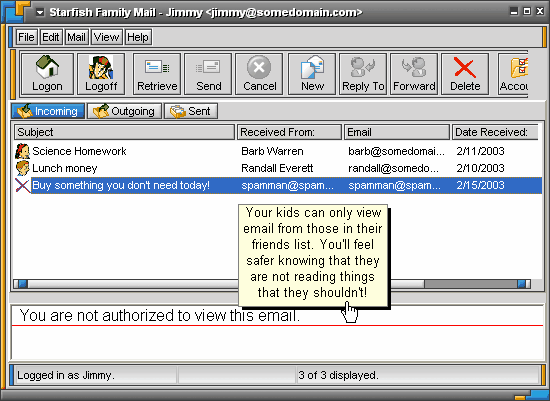 is nice and easy to use email client in users can be able to access only specific contacts. It can also provide stripping HTML but it has weak authentication.
Pros
It is an easy to use and easy to understand program. The users can have email exchange with only approved contacts and it is safe program for kids. The HTML, attachments and scripts are stripped safely in this program.
Cons
This program can be circumvented at times. This program has weak authentication, no digital signatures and lack of encryption. There is limited HTML support in this program.
Description
This program is very good for POP accounts. There is support for multiple users and each user will have his own list of friends with whom they can communicate. This program requires sender authentication through secret phrase. HTML and other certain attachments can be stripped by Starfish Family Mail for privacy and security protection. There is spell checker included in this program and file attachment support is also available. It has skinnable interface. It provides support for Windows 9x/ME/NT/2000/3/XP.
Review
You can find lots of features, options and toolbar buttons in most of email programs. But you will find less complexity in Starfish Family Mail as compared to other email clients due to which it is very easy to use. The security and privacy threats can be reduced with special features in this program. List of friends of can be specified by the admin for each user to communicate with. The messages sent by other users can be kept hidden. A secret phrase will be required by this program in order to provide authentication to the users to be present somewhere. There is no encryption and secure message signing in this program. It has great security for attachments and stripping emails and HTML formatting is also great.