Becky!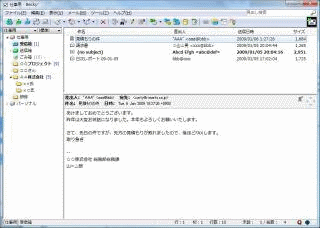 Becky! is an internet mail which is flexible, powerful and easy to use. There is no spam filter, index search and self and automatic learning email categorization in Becky!.
Pros
There are templates, smart folders and flexible message filters available in Becky!. There can be secure messaging for OpenPGP and S/MIME in it with Plug ins. It has many well thought out and powerful features.
Cons
There is no spam filter included in Becky! and its phishing alerts are also not very efficient.
Description
Multiple POP and IMAP accounts can be managed by Becky! internet mail. It has flexible message templates, versatile filter conditions and actions with regular expressions. These searches can be made effectively and can be saved to smart folders as well with Becky!. The HTML mails can be sent and received comfortably with reasonable security in it. The users can send scheduled emails with the help of reminder function in Becky!. There are OpenPGP and S/MIME plug ins included in Becky! for private and secure encrypted emails. The users can have preview of their mails and delete with the help of remote mail management at the POP server directly. There is well support available for Unicode in Becky! with which messages can be stored on USB very easily. It can support Windows 9x/ME/NT/2000/3/XP/Vista.
Review
It is really one of the best email programs which has included many great features. The users can organize their subscriptions with the help of mailing list manager. There is also very nice reminder function available in it which lets you to send scheduled emails. There are flexible filters, labels, flags, templates and smart folders available in Becky! in order to manage incoming and outgoing emails effectively. These filters can be created by holding Alt key and dropping message into filter. It can also detect thread messages with which you can choose to display your messages in plain text or secure HTML. The users can sign their emails transparently with the help of OpenPGP and S/MIMEwith encryption protection.
You can define and use any text or HTML editor if you don't like message editor of Becky!. the IMAP support of Becky! is reliable, fast and useable. The search engine of Becky! doesn't have indexing to speed up waging through many mails. The spam filter is not available in Becky! as well.